Open to everyone who believes in our aims & methods

18/01/04 | Liberty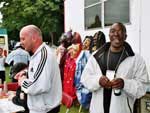 The Unity Organising Group was formed in 1994 as one community's response to the increase in racial violence including the murder of Stephen Lawrence. Since then we have developed our knowledge and skills and have been able to involve thousands of people in Unity activities. We are a constituted, voluntary organisation that aims to Celebrate Diversity and say NO to racism and other social inequalities by:
Organising community based UNITY Festivals and other events and activities.
Making youth & community arts programmes accessible, mobile, relevant...
Through the support we provide to other organisations running community based events & activities.
By establishing partnerships with a range of organisations and community activists in order to take high quality arts and music projects out to communities during the year, primarily with young people who may not otherwise have access to these activities.

By creating accessible, engaging, forums for young people especially, to have a voice about issues that affect their lives.

By providing clear routes of progression for young people to grow and develop as people, as artists/musicians, as community members.

Through practical education campaigns and projects around equality, diversity, community cohesion and inclusion.

We rely on the active involvement of volunteers of all ages and backgrounds to make all this happen and we employ youth workers, professional artists and other experienced people, to work with us on projects & events.

The opportunity exists for new participants in Unity to be involved in projects alongside people experienced in a range of activities, in order to develop new skills including: multi media, music, many art forms - performance and visual, organisation, fund-raising, marketing, youth work, community capacity building, etc. and have some fun whilst meeting people and collectively working towards the aspirations of a Multi Cultural Manchester, promoting equality and a life free from discrimination for all people.

You too can be involved - contact us through this web site.




MORE NEWS